Educate our community on the importance of early life experiences as a foundation for lifelong health, well-being, and achievement.
Enhance our county's ability to assist with life challenges faced by pregnant women, children aged birth-5, and their families.
Support our county's families and caregivers by improving access to resources and services that help all young children thrive.
Create a strong local support system for organizations working with young children and their families using national, proven strategies.
What Experts Are Saying About Strong Starts Chautauqua
"Young children are our future citizens. The earlier we prevent, identify and help with challenges, the better outcomes are for Chautauqua County."
-Tariq Khan, MD, Founder, Southern Tier Pediatrics
"If we develop this type of maternal/early childhood system, we're going to save lives. In this time of the pandemic, the need for Strong Starts Chautauqua is greater than ever."
-Ira J. Chasnoff, MD, National Child Development Expert and Strong Starts Chautauqua Medical Advisor
"Our hope with Strong Starts is that we will see reduction rates of fetal death, pre-term delivery, low birth weight, NICU stays—and stronger family stability."
-Leanna Luka Conley, Chautauqua County Deputy Commissioner of Child, Adult & Family Services
"I have rarely worked with such a committed group as Strong Starts Chautauqua. It is a sight to behold seeing barriers, competition and silo work melt away by people coming together to try their hardest to make Chautauqua County a better and healthier place to live."
-Dr. Lillian Vitanza Ney, Former Medical Director and VP of Medical Affairs, WCA Hospital
Partner Spotlight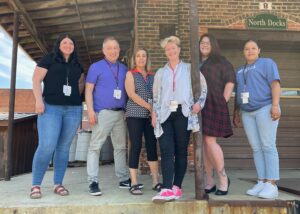 Pictured from left to right are: Elizabeth Witherspoon, Steven Cobb, Dorothy Carlson, Allison Murphy, Bethany Vanderburg, Jessica Crooks
The Mental Health Association in Chautauqua provides community-based peer supports.   Peers work with Strong Starts participants from a foundational point of shared recovery and provide the hope, inspiration and figuratively, the glue that holds things together, while continuing to walk the path of recovery.